Health News
Doctor complaints about bill aimed at reducing prescription drug abuse largely based on misconceptions, health officials say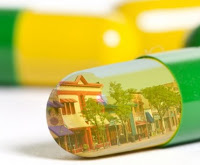 State health officials say doctors' complaints about House Bill 1, which cracks down on pill mills and doctors who supply the illegal prescription pill trade, result from misunderstandings and misconceptions about the law's language and intent, Mike Wynn of
The Courier-Journal
reports. Doctors say the bill's regulations are excessive and restrict their ability to write common prescriptions.
Assistant deputy inspector general Stephanie Hold, of the
Cabinet for Health and Family Services
, said doctors have at least 19 misconceptions about the state's drug tracking system, Kentucky All Schedule Prescription Electronic Reporting, and said checking KASPER before writing prescriptions "should not impede them in any way," Wynn reports. Mike Rodman, director of the
Kentucky Board of Medical Licensure
, said there's nothing in the law that prevents doctors from prescribing controlled substances. He said many doctors have for years practiced prescription standards similar to those in the bill, but feel uncomfortable with them being written as law.
The co-chair of the state oversight committee, Democratic Rep. John Tilley, said there are some legitimate concerns about the bill "that need discussion after we can distill what is fact and what is myth," but lawmakers could likely address all of them without changing the statute. (Read more)
-
Legislature Sends Fix Of Last Year's Pill-mill Bill To Beshear
"After more than a year of debate, a bill that would revamp Kentucky?s prescription-drug law to more strictly focus on pill abuse and ease requirements on patients is heading to the governor?s desk," Mike Wynn reports for The Courier-Journal. On a 36-0...
-
Board Of Medical Licensure To Amend Pill-mill Regulations To Address Concerns Of Doctors And Some Patients
The Kentucky Board of Medical Licensure wants to change some of the more controversial requirements for urine screenings and digital monitoring in the state?s new prescription-drug regulations under the law aimed at fighting doctor shopping and "pill...
-
Tensions Mounting As Implementation Of Prescription Drug Bill Nears On July 20
House Speaker Greg Stumbo, D-Prestonsburg, sponsored the prescription drug bill. (Courier-Journal photo)A controversial bill aimed at curbing prescription drug abuse, which was considered by many as the hallmark of the 2012 General Assembly, is creating...
-
Beshear Oks Prescription Bill, Telling Pill Mills, 'get Out Of This State'
Saying it couldn't get to his desk quickly enough, Gov. Steve Beshear signed a bill aimed at curbing prescription drug abuse in celebration today, warning so-called pill mills to "Get out of this state, because we're coming after you." House Bill...
-
In Bipartisan Way, Political Leaders Push Passage Of 'pill Mill' Bill
A bipartisan group of political leaders issued a call today "to pass a bill that will help the state battle one of its most significant threats ? prescription drug abuse," a press release from Gov. Steve Beshear's office said. Beshear, Attorney General...
Health News