Health News
New Pedestrian Bridge Work Begins at Northwest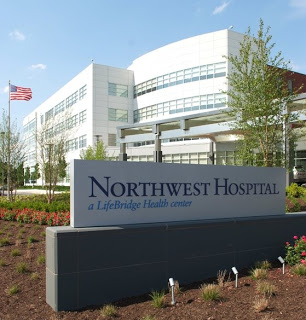 Those visiting Northwest Hospital this month will see an an exciting development in progress. A new pedestrian bridge is being built, and will connect the new Medical Office Building to the hospital's second floor. While the structure, scaffolding and bridge framework are being built, Carlson Lane will be closed between 9 a.m. and 3 p.m. daily. Drivers will be re-routed to the back of the MOB, and those exiting from the Main Entrance will be sent via the outpatient lot to Old Court Road. When the Main Entrance is closed, drivers may be asked to drop off passengers at the "G" lot." Workers are on site to guide drivers and pedestrians.




-
Northwest Hospital Debuts Surgicenter
Northwest Hospital will officially open and dedicate its new ambulatory surgery center tomorrow from 5:30 - 7:30 p.m. To mark this occasion, there will be a reception, brief program and self-guided tours of the SurgiCenter, with staff available to answer...
-
Northwest Hospital's Accomplishments Of 2009
As we say farewell to 2009, LifeBridge Health is taking a look at some of the major events of the past year. Today, we remember the opening of the new breast care center at Northwest Hospital. Of all the changes at Northwest Hospital in 2009, a highlight...
-
Seasonal Flu Vaccines Available Saturday
Have you had your seasonal flu shot yet? Northwest Hospital is hosting a Community Seasonal Flu Vaccination Day from 10 a.m. to 1 p.m. this Saturday, October 24. Vaccinations will take place in the Pikes-Reister-Owings Educational Rooms. According to...
-
Northwest Hospital To Re-open New Main Entrance Friday Morning
This Friday, April 10, the newly redesigned main entrance and lobby area at Northwest Hospital in Baltimore will re-open to the public. The new main entrance includes the installation of a new canopy, entrance and driveway, as well as landscaping and...
-
Northwest Hospital Breaks Ground On New Medical Office Building
Northwest Hospital in Randallstown and Blue & Obrecht of Lutherville broke ground on the new Northwest Medical Office Building at Carlson Lane. The $10 million project is expected to provide over 51,500 square feet of new office space and will be...
Health News