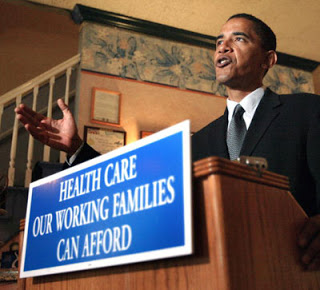 ?The Obama administration made a decision on Friday to own the term?ObamaCare?,?
NBC News
reports in its First Read blog, adding a capital letter not often used. ?It had been used as a pejorative by Republicans, but the White House has made the decision to embrace it and not let opponents have a word that they only drive as a negative. White House senior adviser David Plouffe noted on ?Meet the Press? Sunday that, in 10 years, health care will be a positive and cited polling that people don?t want to re-litigate it. We can report that last part came from Democratic polling Plouffe has seen; he was
not
citing any public polling on this specific issue.?
The NBC item is also based on a story yesterday from
The New York Times
, which reported that Democrats are ?launching a Twitter campaign that seeks to build positive associations for it.? The Twitter post read, ?If you?re proud of Obamacare and tired of the other side using it as a dirty word, complete this sentence: #ILikeObamacare because ...?
The story noted that ?Obamacare? has been used ?primarily by Republicans, as a term of disdain. Democrats have tried to limit the term?s use to reshape perceptions, but that has been a tough sell.? The Times quotes Grant Barrett, a vice president for the
American Dialect Society
, who said that once a word becomes political, it is very difficult to quash it: ?It?s an invitation to have your heart broken. You forbid it, and they start writing it on the bathroom stalls.?
For the Times story and a nice graphic showing the history of the term, and examples of its use, by Amanda Cox, Alicia DeSantis, Alicia Parlapiano and Jeremy White, click here.
By Al Cross Kentucky Health News Democratic Gov. Steve Beshear and Republican U.S. Sen. Mitch McConnell squared off on health-care reform for the second straight year at the Kentucky Farm Bureau Federation's annual Country Ham Breakfast at the Kentucky...
"The early success of Kentucky?s health care exchange, Kynect, is creating quandaries for both Mitch McConnell and Alison Lundergan Grimes as they address Obamacare" in Kentucky's U.S. Senate race," James R. Carroll reports for The Courier-Journal....
Most registered voters in Kentucky have an unfavorable view of the Patient Protection and Affordable Care Act when it is called Obamacare, but a plurality think favorably of Kynect, the brand name of the health-insurance marketplace that state government...
Though thousands of their constituents have benefited from it, Republican state legislators say they are planning to roll back Democratic Gov. Steve Beshear's expansion of Medicaid under the Patient Protection and Affordable Care Act if they take...
By Molly Burchett Kentucky Health News The good, the bad and the ugly about health reform in Kentucky are showing up on national news as the state's two Republican senators stand vehemently against Obamacare and the state's Democratic governor...